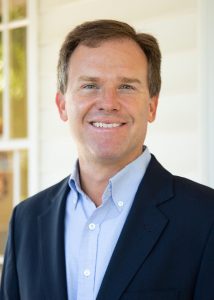 "I feel fortunate to have had the opportunity to join the practice my father started in 1978 and to carry on the legacy. It is very rewarding to take care of patients and families that have been in the practice for decades and who have become our friends." — Dr. Hawkins
Meet Dr. Hawkins
Dr. Hawkins and his wife, Suzie, live in Gainesville with their four children: Anne, Benny, Jane and Edward. Their time is filled with their children and their activities as well as several community organizations they are involved. Dr. Hawkins enjoys playing golf, fishing, hunting and snow skiing.
Community Involvement
Michael Catholic Church, Chairman, Finance Council
Gainesville and Hall County Hospital Authority Board
Northeast Georgia Health Systems Board of Directors
Northeast Georgia Medical Center Quality and Performance Improvement Committee
Gainesville Kiwanis Club
Past President, Gainesville Friends of the Parks
Former member, Board of Directors, Gainesville Jaycees
Education/Professional Associations
North Hall High School
Magna cum laude, University of Georgia, BA Risk Management
Medical College of Georgia, DMD
Past President, American Student Dental Association, MCG chapter
Past President, Hall County Dental Society
Member, Georgia Dental Association
Member, American Dental Association®
Pankey Institute Alumni
Member, Hinman Dental Society
Member, Atlanta Dental Study Club
Member, Academy of General Dentistry
Member, American Academy of Cosmetic Dentistry
Member, American Academy of Dental Sleep Medicine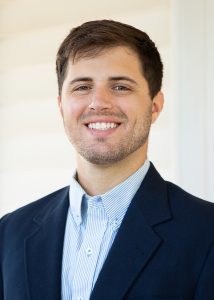 Dr. Sims Griffith was born and raised right here in Gainesville, Georgia, and is very excited to be back to practicing and serving his hometown. He graduated from Gainesville High School in 2014 and went on to attend Furman University. While at Furman, he studied health sciences and played baseball for four years. While growing up, Dr. Griffith always knew he wanted to do something in health care, but it was not until he shadowed a few dental specialists during summers in college that he knew he found his calling. Upon graduation from Furman in 2018, Sims immediately started dental school and it was there that he solidified his decision and fell in love with dentistry. If you see Dr. Griffith outside of the office, he is probably golfing, fishing or spending time with his family and friends.
Mission and Values
Throughout my career, I will strive for excellence with all services provided to my patients. I will provide guidance and education to patients and help them reach their highest level of dental health for their respective situation. My highest priority is building relationships and trust with my patients and within the community. The values that will drive me to provide the best patient care are integrity, respect, excellence, continuous learning and the commitment to have a practice environment where patients come first. I would like to offer patients the chance to make their own decisions while offering them all the treatment options available.
Education
Gainesville High School – 2014
Furman University, Health Sciences, Magna Cum Laude – 2018
Medical University of South Carolina – 2022
Received Top #1 Clinician Award in graduating class
Professional Affiliations
American Academy of Cosmetic Dentistry
American Dental Association®
Georgia Dental Association